Who is it for?
Corporate and SME Customers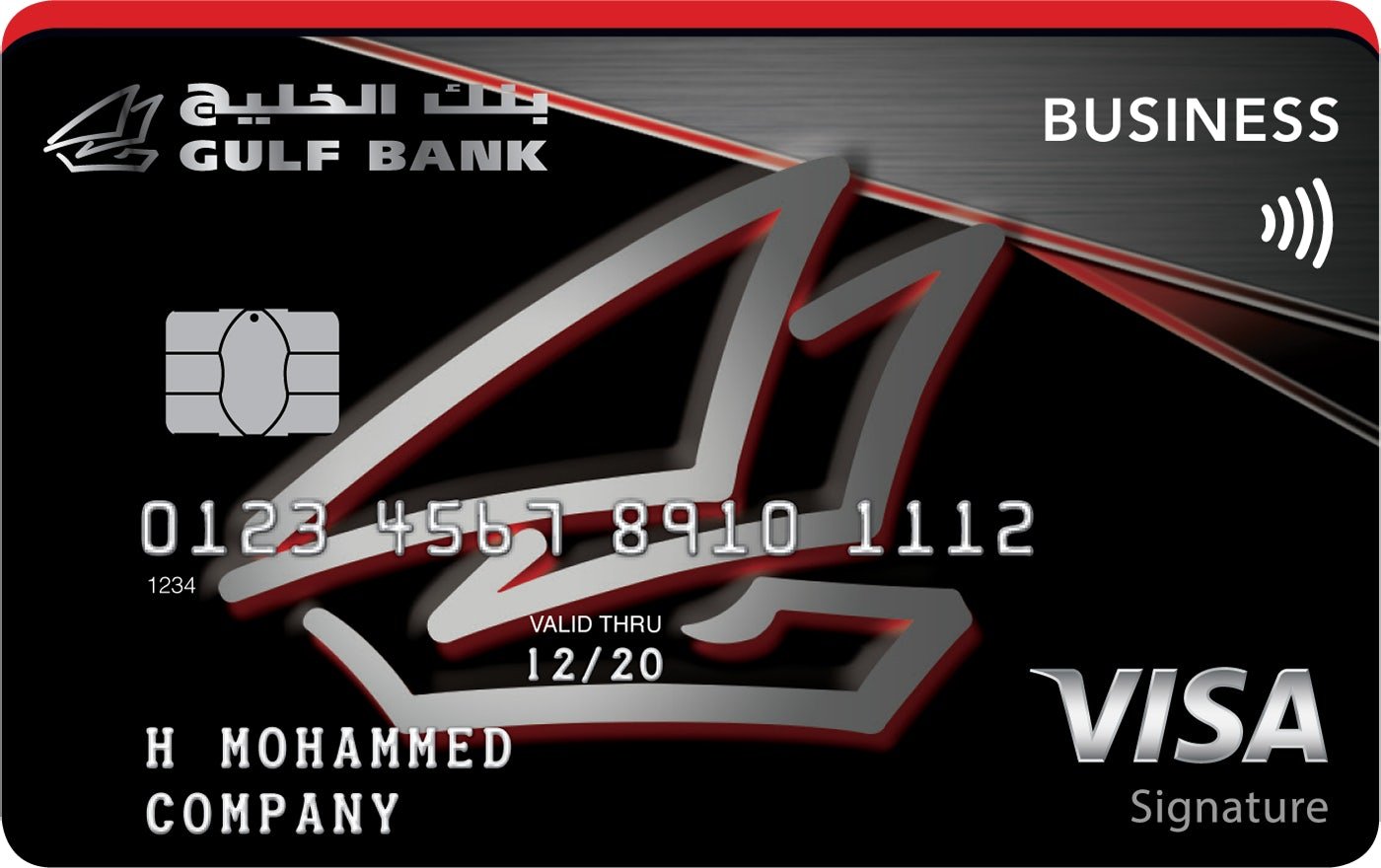 Key Benefits for Employers
Visibility & Control:
This provides the intelligence to control expenses and make informed decisions.

Savings:
Spend data can be used to negotiate special rates with suppliers. Also, data can be tracked to catch non-compliant spending.

Reduced Risk & Exposure:
Company liability Waiver Insurance: Protect your Business against fraudulent misuse of cards by employees for a sum of USD 25,000 per cardholder and USD 1.65 million per year, thus reducing unnecessary risk and exposure.

Efficiency:
Helps in reducing front end processes. Payments can be debited directly from Gulf Bank's Corporate Account.
Key Benefits for Employees
Instant discounts up to 25% at over 550 renowned restaurants & coffee shops in Kuwai

To check out the dining list Click here
Instant discounts up to 30% at over 300 retail outlets in Kuwait across Travel & Entertainment, Health & Beauty and Lifestyle segments

To see the promotions list Click here

 
Unlimited complimentary access to over 1,000 airport lounges for you and one guest. (Extra Guests visits over one guest are charged from your Credit Card at a fixed rate of USD 32)

To view list of participating airport lounges Click here
Complimentary Travel Insurance upon purchasing your air tickets' value using VISA Business Signature credit card. Benefit from full coverage up to $500,000 for you and your family

Free insurance for Schengen visa

To inquire and to request a claim form please share the following information

Cardholder's name
First 9 digits of covered card number
Cardholders address
The policy or section under which the claim applies

By contacting

First Takaful Insurance Co. K.P.S.C. Al-Qibla – Abdullah Al-Mubarak St. Souq Al-Safat Building - First Floor – Office 6, P.O box 5713 Safat- 13058, Kuwait
All customer claims can be submitted through: visa@broadspire.eu
For more information, visit cardholderbenefitsonline.com

For VISA Business Signature – Travel Insurance Terms & Conditions  Click here
Available at service 24/7. Access to a host of lifestyle services and bookings including hotel bookings and flight reservations, through VISA Concierge. Concierge service can be contacted on: +971 4361 1234 or +44 207 8502829
Visa in partnership with DragonPass provides discounts at over 200+ restaurants globally including key locations in both MENA home markets and travel corridors

Download the App 'DragonPass Dine & Travel' available for Android and iOS
Up to 25% off a global network of specialist Airport meet and greet services partners available at over 450 airports worldwide offering

For more information about Clearance through Customs, Immigrations, and Booking Click here
Visa Business Signature credit card brings the benefits of the Visa Luxury Hotel Collection. Unsurpassed value at over 900 world-class hotels from boutique properties to world-renowned venues and resorts. The following benefits are available:

Best available rate guaranteed
Complementary in-room Internet
3pm checkout upon request
Automatic room upgrade upon arrival, when available
Complimentary continental breakfast daily
VIP guest status
For more details Click here
Get up to 35% discount and enjoy exclusive benefits on AVIS car rental with Gulf Bank Visa Infinite Credit Cards

For more details and bookings Click Here
Access to a trusted ISOS-audited medical practitioner or legal professional who talks your language

Cardholders are responsible for interpreting fees and related charges. For assistance call: +44 (0) 20 8762 8373
This service insures you against theft or accidental damage within 90 days from the date of purchase and up to USD 6,000 per item with a maximum of USD 20,000 per year

To inquire and to request a claim form please contact

First Takaful Insurance Co. K.P.S.C. Al-Qibla – Abdullah Al-Mubarak St. Souq Al-Safat Building - First Floor – Office 6, P.O box 5713 Safat- 13058, Kuwait
All customer claims can be submitted through:visa@broadspire.eu
For more information, visit cardholderbenefitsonline.com

For VISA Signature – Purchase Protection Terms & Conditions Click here
This service provides you with extended warranty on your new purchases for a period of 12 months in addition to the warranty period provided by the original manufacturer. It includes the repair or the replacement of your new purchases up to the coverage amount of USD 5,000 per incident with maximum of USD 20,000 per year

To inquire and to request a claim form please contact

First Takaful Insurance Co. K.P.S.C. Al-Qibla – Abdullah Al-Mubarak St. Souq Al-Safat Building - First Floor – Office 6, P.O box 5713 Safat- 13058, Kuwait
All customer claims can be submitted through: visa@broadspire.eu
For more information, visit cardholderbenefitsonline.com
For VISA Signature – Extended Warranty Terms & Conditions Click here
Get reimbursed up to USD 4,000 per year and USD 2,500 per occurrence to cover fraudulent charges on your Visa Business Signature Card

For Terms and Conditions Click here
Authorization up to USD 5,000 or equivalent within 1 business day.

For assistance please call: +1 303 967 1096
Gulf Bank 3D Secure is an added layer of security for online shopping that protects Credit Cardholders' online purchases from fraudulent use of their Credit Cards
Features
Cash withdrawal is available for up to 100% of the cardholder's credit limit.

EMV chip enabled for enhanced security, safety and convenience

Gulf Bank Tap & Pay: Faster payments on service enabled POS terminals

Worldwide acceptance of the Credit Card at more than two million ATMs and 33 million point-of-sale terminals

Buy now & pay later: Enjoy a flexible and convenient way to pay with a minimum payment of 8.33% per month with no need to carry cash. The proposed Credit Card allows a convenient and flexible means for repayment
Contact Us
For Assistance Services and Reporting Lost & Stolen Cards, Please Call: Gulf Bank 24/7 Call Center:
From Kuwait on 1 805805 or From Overseas on +965 2 2444383

For Reporting Fraudulent Transactions, Please Call:
+965 22496292